New Perthes Awareness Gear Available!
For a limited time only! Get yours today, before they're all gone!
This is a special Perthes In Action Fundraiser for everyone! 100% of proceeds are to benefit Perthes Kids Foundation & Camp Perthes International, to aid in our relentless mission of helping children and families affected by Legg-Calvé-Perthes disease AND raising more awareness around the world. Please consider purchasing one (or two) of these items below, to help make a positive impact on a child currently battling this disease, and the advocacy we fight for to serve the Perthes community.
Thank you for your support!
These items can be internationally shipped to any of these countries. Each item is a separate fundraiser, so if you order multiple items (shirt, hat & bag), they will each have to be ordered separately. At this time, CustomInk does not have the ability to combine different items into one overall cart. Thank you for understanding, and we greatly appreciate your support!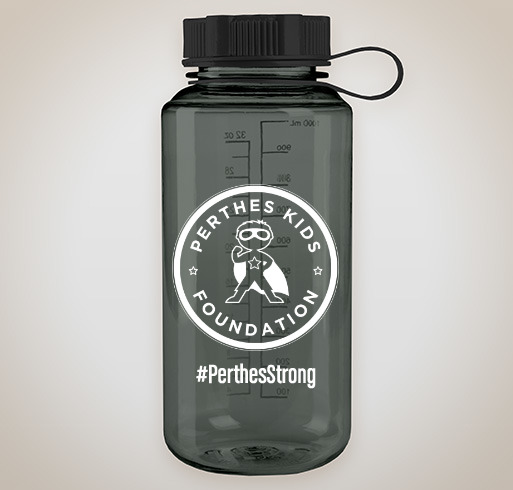 #PerthesStrong Fundraiser for Perthes Kids!
Perthes Kids Foundation needs your support! Not only are we raising funds for 4 different Perthes kids camps, in 4 different countries, but we will also be represented in a few IRONMAN triathlon competitions, this year! Yes, we are all #PerthesStrong in 2019! It is our hope that this special, limited-edition, sports water bottle (with new, official PKF logo) will help inspire our kids & adults, and be a symbol of their resilience, determination, and perseverance, as they take on the challenges of Perthes disease. It's not how you start your journey, but how you finish it!
Please purchase a PKF water bottle to help support our Perthes Kids, but to also raise more awareness for Legg-Calvé-Perthes disease. Just $15 USD, available until June 16th. 100% of all proceeds go to Perthes advocacy, education, and special programs to benefit kids suffering from Perthes disease. Thank you for your support!
UPDATE: After a few people mentioned that the water bottle from the previous fundraiser would slightly melt in hot temperatures, we contacted Custom Ink who has gone above and beyond to help us. Custom Ink has agreed to send those who purchased the original water bottle with a more durable replacement bottle, free of charge. You will receive one replacement bottle for each one that you purchased. They already have your shipping information, so nothing else you need to do!
2019 Perthes Kids Art Contest
Winning Designs
Congratulations to our 1st place winners (Jasmin & Royce), and to all of our rare artists! Thank you all for participating. You can see all of our amazing artwork by kids with Perthes, in our image gallery.
As a reward for winning 1st place, we had our artists' winning designs made into custom Perthes Kids t-shirts for our Rare Disease Awareness Fundraiser, which are now on sale ($20 USD) from March 1st through 14th. Just click on the images below. Congrats again to all of our artists, who put their heart & soul into their designs to express how they feel about Perthes.
PLEASE SHOW YOUR SUPPORT FOR OUR PERTHES KIDS RARE disease FUNDRAISER
Buy a Perthes shirt, today!
We hope everyone shows their support by purchasing a shirt(s)...which is for a really good cause & tax deductible! 100% of the proceeds go to Perthes Kids Foundation advocacy, education and programs, to help children and families affected by Legg-Calvé-Perthes disease. Sale ends March 14th
#CareAboutRare
FULL PERTHES STORE
LOTS OF COOL MERCHANDISE
COMING SOON!
Perthes Kids Holiday Hoodies
*** This fundraiser is now over. Thank you to all that supported our cause by ordering a Perthes hoodie! We look forward to seeing you wearing your new PKF gear in the new year!
BRING IN THE NEW YEAR with STYLE!
Get your holiday hoodies right here to support #PerthesAwareness! For a limited time only ($30), we have available - three - special designs to appeal to a variety of tastes…for kids & adults who are rare, or love someone rare with Perthes (just click on one of the images above).
Warm cotton blend, pullover hoodie

Only $30 each (tax deductible)

Three different colors & designs

Youth & Adult sizes available

Expected delivery in January 2019
100% of the proceeds for this holiday fundraiser will go toward Perthes Kids Foundation advocacy, programs and support, for children & families affected by Legg-Calvé-Perthes disease. Each hoodie sale will absolutely benefit our cause, to continue the work that we do in 2019. Sale ends December 31, 2018. Thank you so much for your support, and Happy Holidays!
SHOP WITH AMAZON. RAISE MONEY FOR PERTHES.
Help raise money for PERTHES KIDS FOUNDATION when you shop at smile.amazon.com, and AMAZON will donate a percentage of all sales to our charity! Please keep Perthes Kids in mind for any of your online shopping needs, especially holiday season. Just click on the smile link, and order away. Your purchases will truly help with our great cause in supporting the Perthes community. Thank you.
These cool T-shirts, Perthes Awareness Blue & Legg Day Sports Grey -- and many more varieties -- will go on sale in March to benefit Perthes Kids Foundation. The two shirts above are available now, for a limited time only. Get yours, today! - (currently, unavailable)
2018 Perthes Kids Art Contest Fundraiser
Rare Disease Day, February 28th, is an international, awareness-raising event, that aims to bring attention to rare diseases, like Legg-Calve'-Perthes disease, and the people who are affected by them. This year, Perthes Kids Foundation participated in Rare Disease Day by holding its first ever Perthes Kids Art Contest!
Congratulations to our two FIRST PLACE winners, Ainsley Beaver (age 13) & Karter Scheele (age 8). You can show support to these Perthes Kids and their rare designs, by purchasing a t-shirt or making a donation. All proceeds will go to Perthes Kids Foundation to help serve children fighting Legg-Calve-Perthes disease. Just click on one of the shirts below for more info... before they're all gone!
get your limited-edition t-shirt, today, while supplies last! sale ends 3/15/18!